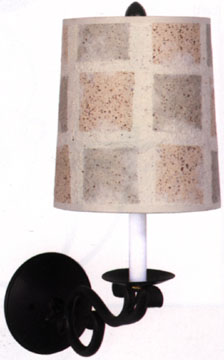 Scroll Swing Arm Wall Sconce
#60763
Hand made forged iron wall sconce. Made for use without shades.
Approx. Dimensions: " x " x "
Price: $240.00 each
---
ONLINE ORDER FORM
If you have any questions or prefer to order over the phone please, Call/Text (805)358-4040 or Fax (805)493-5937 or E-Mail us. Guaranteed Satisfaction.
---
---
For More quality products click on the following links.
JOIN OUR MAILING LIST

Main Index | General Lighting | Stone County Iron Works | Gift guide | Beds | Kitchen accessories | Bath-room accents | Forged Iron Tables, Chairs and Barstools | Rod Iron Furniture | Accessories | Rustic hardware | Fine hardware | Rugs | Metal wall art | Lenore Mulligan Leather Couches
J.C. Schahrer Western Furniture
We ship all over the world.