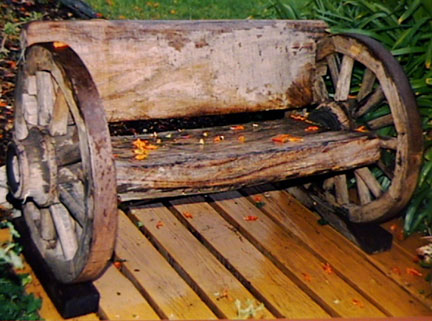 Wagon Wheel Bench
Talking about recycling, made with old wagon wheels and hard woods from buildings, houses and barns torn down. This piece comes in two sizes:
Small, 50" wide X 30" deep X 32" high for $600.00
Large, 65" wide X 32" deep X 32" high for $700.00
When oils are applied to preserve the piece the bench turns deep in color. When the bench seats permanently under the influences of the weather, over time it bleaches out taking a silvery tint to it.
---
Click Here to Order . If you have questions or would prefer to order over the phone Call (800)472-6341, (805)445-9400, fax us at (805)493-5937 or Click Here to E-mail Us. We ship all over the world. Manufacturers, dealers inquiries welcome. Guaranteed satisfaction.
---
---
For More Quality Products Check the Following Links

| Index of Items| More Beds| Wall and Table Art Pieces| Bath-room Acccents & Accessories| Forge Iron Home or Office Accents| More Furniture Styles| J.C.'s Western Cowboy Line| Forged Iron Kitchen Accents| Dressers| Fine Furniture Hardware| Forged / Rod Iron Fire Place Tools and Accessories| Featured Pieces| Night Stands| Gifts For All Occasions| Oils, Lithographs and Prints| Bath-room Accents| General Lighting, Chandeliers, Fixtures and Lamps| Cow and Stenciled Hides and Rugs| Forged Iron Tables, Chairs and Barstools| Rod Iron Furniture | Forge Iron Clocks| Accessories | Art Pieces | Forged Iron Landscaping Accents and Accessories | Rustic Furniture Hardware | Forged Iron Beds.